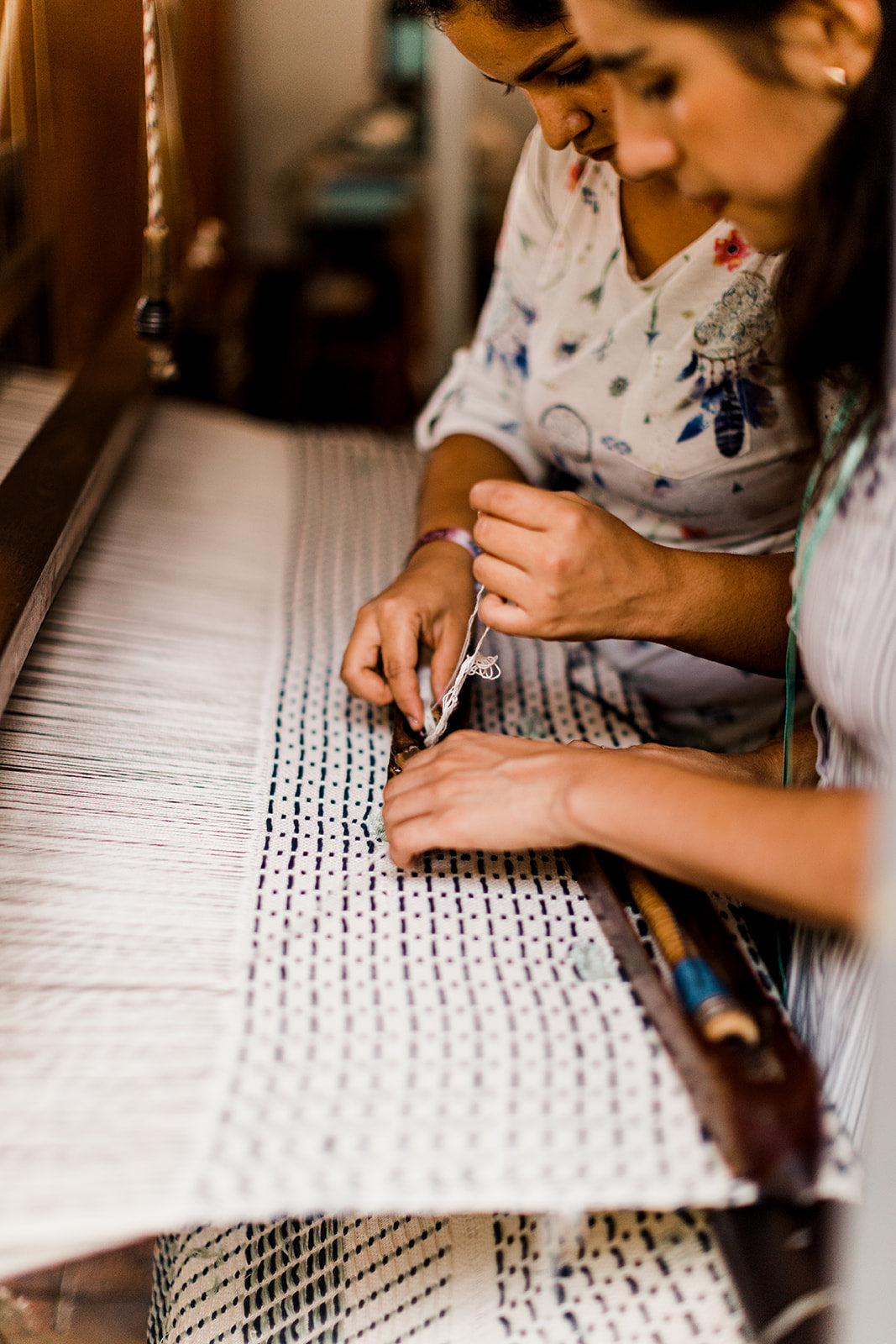 Zuahaza, Colombia
 Zuahaza was founded in 2019 by designer Tatiana Ordoñez. Zuahaza means "my sister" in Muisca, the language of the indigenous peoples who lived in the Cundiboyacense region of Colombia. And that's exactly what Zuahaza stands for as a social enterprise: the embodiment of "sisterhood", good working conditions and mutual support in the design and manufacturing process. 
Tatiana's designs are inspired by the grand diversity of Colombia and brought to life together with a partner artisan cooperative in Santander.
Zuahaza wants to share Colombia's diversity, history and future vision with the world through her unique products. 
Collapsible content
Techniques

Traditional Loom Weaving

1. Spinning

The artisans handspin the cotton: it can take up to a week to make only one pound of cotton yarn. Most of the spinners work from home and spin cotton in between their daily tasks as mothers and artisans.

2. Loom Preparation

Prepping the loom can take 14 hours on a medium size loom and up to 3 full days on larger ones. This is the foundation of the whole weaving process, where the length, width and design of the fabric is sequenced.

3. Weaving

Each textile is handwoven by one of the talented artisans who have learned these skills from previous generations.

The footloom is somewhat of a whole body workout: while using arms and feet to operate the loom, artisans work with their fingers on the delicate details of each design.

4. Sewing

The most skilled sewers and detailed artisans take the fabrics and make them into finished pillows and blankets.
Materials

Handspun organic cotton, natural dyes with colours from plants and vegetables
Impact

Zuahaza partners with 38 artisans, majority who are women and primary breadwinners in their families. Sisterhood and mutual learning are at the core of how they operate as a business. Zuahaza sponsors opportunities for the artisans to attend professional development workshops and learn new techniques and processes to improve their craft.