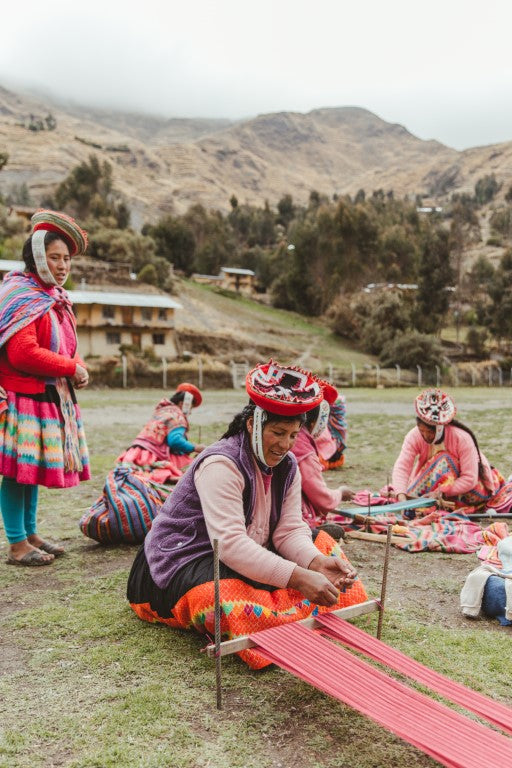 Awamaki, Peru
Deep in the Peruvian Andes, in the Sacred Valley near the World Heritage Site of Machu Picchu, Awamaki supports rural women in setting up and running their own businesses. 
Awamaki invests in the training of the artisans and connects them to the global market.
Following the principle "Woven in Community" (you can find out more about the "Ayllu" principle on the blog), Awamaki works closely with the artisans in the Andes according to fair trade principles. 
Every single product is made by hand using traditional weaving and knitting techniques. On site in Ollantaytambo, Awamaki not only offers handmade products, but also sustainable travel experiences.
Collapsible content
Techniques

Backstrap Weaving:

In rural Peru, backstrap weaving is a practiced, traditional process that has been passed down for generations. Textiles woven using this technique are only as wide as the weaver's hips, and the weaver uses the tension of her body to control the tension in the loom and textile. The backstrap loom is portable, and requires only two stakes to set up. Weavers often roll the stakes up with the loom and carry it around with them, weaving whenever it is convenient.

Knitting:

Because of the loft and softness required for knitted accessories (like our baby accessories) Awamaki's knitting partners do not use the same sheeps' wool yarn that the weavers spin and use. Instead, they use alpaca wool. Alpacas are native to the Andean mountains, raised in high altitude, cold climates, making them and their fiber truly special.
Materials

Awamaki's artisan partners work with sheep wool primarily for woven textiles, while using alpaca fiber for the knitted baby accessories.

Sheep wool can be quite uneven in color, which is why it is usually dyed (with natural plant and insect dye). Lanolin, the natural oil coating on sheep wool, makes it naturally water repellent.

Alpaca fiber is much more lightweight, finer and warmer than sheep's wool. It also does not contain lanolin, making it hypoallergenic. It is also naturally water repellent.
Impact

Awamaki partners with 8 women-led, rural, Andean artisan cooperatives to provide training and market access. The core purpose of their work is to create sustainable economic opportunities for Indigenous women artisans in Peru and to support their financial independence so they have the resources they need to invest in themselves and their families' wellness.